This post may contain affiliate links. Please see my full disclosure policy for details.
Do you struggle with limp curls?
I did for several months. Then I heard about a product line called DevaCurl that led me to something called a DevaCut.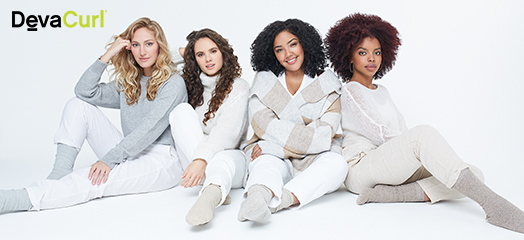 Shop www.devacurl.com
Could this be the answer to my prayers?
I went natural about two years ago. Did the big chop last year. Then got regular treatments and trimmings.
There was just one problem. . .
I lost my curl pattern as my hair grew. Goodbye corkscrew curls and hello wavy hair.
YouTube to the rescue.
I found many helpful YouTubers who had a similar hair texture and density to mine. I bought a lot of the products they recommended. But I still struggled with limp curls.
Sounds familiar?
Then the curly hair gods must have felt pity on me. I came across DevaCurl products and a DevaCut.
The reviews were mixed. The cut was expensive. My birthday was coming up. So I considered it a birthday treat. I was desperate.
I found my local DevaCut salon and scheduled an appointment for a DevaCut, deep conditioning, and Pintura highlights.
What is a DevaCut?
A DevaCut is a special dry-cutting technique for wavy to super curly hair. Your hair is cut in its natural state curl-by-curl.
Your DevaCut also includes a transformation service. The transformation service includes a cleanse and condition followed by a styling and coaching session.
Prepping for Your First DevaCut

Yes, you have to prep! You will need to wash your hair with a clarifying shampoo. A clarifying shampoo is a detox for your hair. It removes product buildup that weighs your hair down.
I used the DevaCurl Buildup Buster. This product didn't lather, but it thoroughly cleansed my hair.
And the best part is. . .
My curls came back! I was shocked. The product did what it was supposed to do.
I followed it up with the DevaCurl Deep Sea Repair Conditioner. My fingers glided through my hair as I detangled it. Then I rinsed it out.
My curls popped even more! How awesome is that?

I let my hair air-dry, undisturbed. This means no products and no manipulation. Stop using products with oil, cream, sulfates, or silicones 1 to 2 weeks before your appointment.
Your stylist should be able to see your natural curl pattern.

Haircut Day
DevaCurl salons are very upscale. The ambience was amazing. Upon arrival, the receptionist took my coat and asked me if I wanted coffee, tea, or water. Y'all, I felt like I was at a spa.
My stylist came out and greeted me in less than five minutes!
Your stylist will ask you about your hair goals. I told her I wanted more volume and more moisture. Then she proceeded to stretch my curls.
Hmm, I thought she was going to cut around my undisturbed curls.
Then she asked about a hair shape. I didn't have one in mind. So I went with her suggestion.
The Cut

She cut my hair curl-by-curl. Or where a curl should have been. I'm still not sure. But it was starting to take shape. I liked it! I liked it a lot.
Pintura Highlights

Pintura is truly an art form. The stylist will use a brush to vertically paint highlights onto your hair. The highlights are painted on curl-by-curl for a more dramatic effect. Then Saran Wrap is wrapped around your hair. It's time to go under the dryer now.
Hair Washing 101

She took me to the hair washing area and grabbed a large handheld mirror. She handed the mirror to me, so I could learn how to cleanse and hydrate my hair.
The stylist will ask you about your process at home. I told her that I wash my hair once a week. Then she told me to wash it twice a week.
The stylist parted my hair into two sections before adding the shampoo. She massaged my scalp and detangled my hair. Then she worked the product through my hair in a downward motion while continually adding water. Because DevaCurl products are activated by water.
Unlike other shampoos, DevaCurl No-Poo is a non-lathering conditioning cleanser. It cleanses the hair without stripping away your hair's natural oil.
This shampoo has so much slip that her fingers just glided through my hair.
She told me to touch my hair, so I know how it's supposed to feel before moving onto the deep conditioner. She used the same process for the deep conditioner and regular conditioner.
I went under the dryer for a few minutes after she put the deep conditioner in my hair.
She added the leave-in conditioner while my hair was soaking wet. I learned so much I felt like I should have brought a notepad.
I was surprised that my hair was silky soft because my stylist didn't use a lot of product in my hair.
I learned the error of my ways. Each product needs to be worked into your hair. And using too much product has the reverse effect. More water and less product is my new motto. No more oily pillowcases for me. Yay!
Styling

Your stylist will ask you about your process to define your curls. I told her that I use a curl definer and the praying hands method.
She gave me another large handheld mirror, so I could watch her define my curls. She sprayed my hair with water and worked it through my hair. Then she added a smidge of curl definer. And raked the curl definer through my hair
I was shocked because my curls were defined with just water. Then they were super defined with the curl definer.
Every single curl on my whole entire head fell into place. I finally had volume and super juicy defined curls.
Results
This was the best haircut I've ever had. I wish I would have known about a DevaCut when it was time for the big chop. I wasted a lot of money on products that I didn't need.
A DevaCut is life-changing!
You will learn the correct way to cleanse, hydrate, and style your hair. This info is invaluable because it is specific to your hair. I definitely plan on going back in three months for another cut.
My hair loves DevaCurl products. Their products are some of the most expensive on the market, but they work! They really work. And a little goes a long way.
One Month Later

I love my DevaCut. My hair has volume and retains moisture now. Every curl falls into place without much effort on my part.
Shop the post